Pastoral Grazing Enterprise Valuation & Management Articles
Select an Article of Interest from the list below
---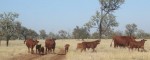 This paper is on beast area valuation (BAV) of a pastoral grazing valuation approach and methodology, and as the title implies, will attempt to unravel the mysteries of this industry heuristic (i.e. quick method), or 'rule-of-thumb' valuation method, usually and appropriately applied to pastoral zone grazing enterprises, as a walk-in walk-out (WIWO), going-concern business (with 'all-things-necessary'), to value them for the purpose of investment and divestment.
The attached paper was presented at the Australian Property Institute (API) Property Conference held at the Central Queensland University (CQU) in Rockhampton Q'ld on the 21 August 2015.
---
NEWSLETTER
Sign up for our newsletter below.